Hey.
Typical problem . Turkish firewall.I had a conv with a mage throu game + email. I ll post his apply here
Personal Information
Your name :  Batuhan
Your age : 25
Your nationality : Turkish
Your time zone: +1
Character Information
Character name :Chuky
Class :Mage
Race : Gnome
Spec (please link using a talentcalculator, either
http://www.aowow.org/?talent
or
http://www.wowprovider.com/Old.aspx?talent=11215875_1
, remember to post it without the
http://
e.g. aowow.org/?talents#randomlettersthisisatest):
http://www.wowprovider.com/?talent=11215875_8_8204055c1003e5052020023033051r
(pve)
Attuned to MC/BWL/Naxxramas : yes/yes/yes
List all your gear and enchants (Caster = Hit + Crit + SP, Melee = Hit + Crit + AP) :
-Spellweaver's Turban
-Charm of the Shifting Sands
-Arcanist Mantle
-Cloak of the Brood Lord - 5 all resists
-Netherwind Robes +100 HP
-Zandalar Illusionist's Wraps + 9 Stamina
-Bloodtinged Gloves + 20 Fire dmg
-Mana Igniting Cord
-Leggings of the Black Blizzard ZG Enchant
-Netherwind Boots
-Signet Ring of the Bronze Dragonflight (Honored)
-Ring of Spell Power
-Briarwood Reed
-Eye of the Beast
-Staff of the Ruins +30 Spell damage
-Ritssyn's Wand of Bad Mojo
Resistances ( Fire / Nature / Frost ) : Have NR Gear
Show us your UI (put your links without
http://www
to get rid of error 7 day register error e.g. imgur.com/thisdoesnotexistthisisjustatest.jpg): -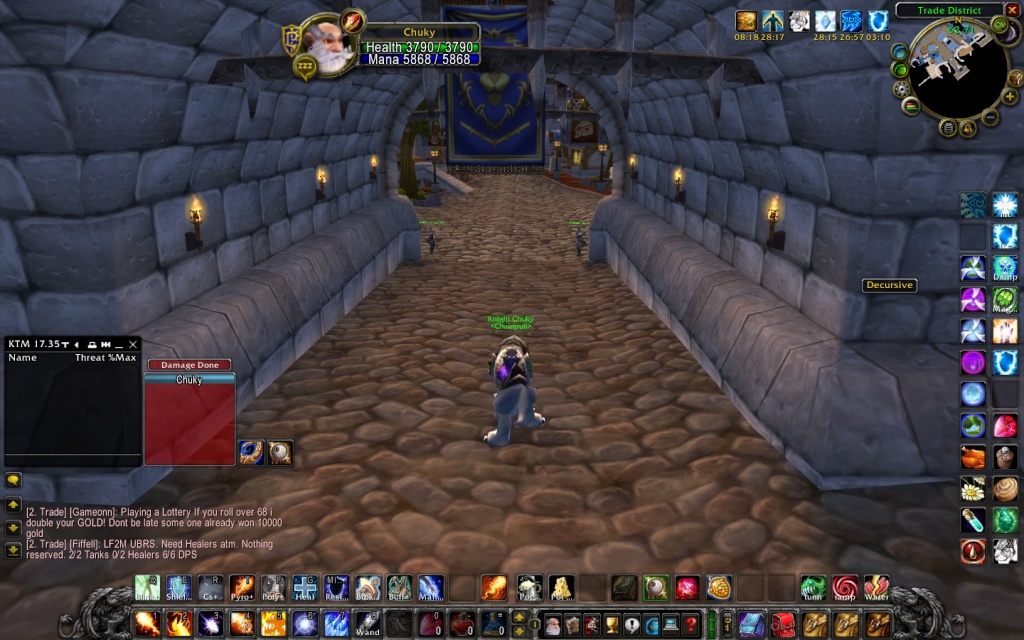 List of the addons you are currently using : Bigwigs, KTM, CT_RA, C'thun Warner installed? got it
PvE Experience : AQ40 7/9 (missing ouro-Cthun).Never attended Naxxramas
Previous guilds in Feenix : Chainpull - I left because there was no unity and selfish ppl
General Information
Are you able to attend to atleast 3 raids, every week (We raid Sun,Tues,Thurs 19:30-23:30 Server Time and invites start at 19.00 ST):He is working during summer so he might miss some raids but on raid days, he ll be here
Can you come to raids and supply your own consumables (e.g. Flasks).Please state what concumables you are using:Yes ( int / sp / mana )
We might have to rotate you during a raid, are you willing to stay on stand by ? -No it isn't problem for me.As leader wish.
Have you read the rules and do you accept them ?-Cant login on site
Is there any member in <Praeda> that can vouch for you ? Yarrock
Since the forum is a big part of the community you are obligated to be active on the forum and sign up for raids and contribute with your opinions. Are you willing to go along with this: -Cant login on site
Zerroc's favourite song ( Must answer ) : -Cant login on site
(Optional) Add something you think we find interesting or useful :
-no thanx
Thank you for your time. The leaders will discuss your application and contact you with an answer in the next coming days.